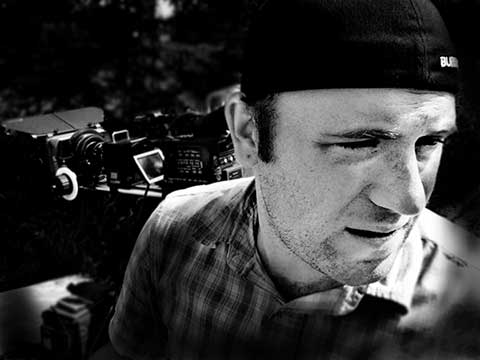 Featured Filmmaker Nathan Beaman
Vermont-based cinematographer and Nathan Beaman of Urban Rhino Visuals recently collaborated with director Michael Fisher on a series of three art films that are beautifully shot and portray complex, deeply moving subjects.
"Michael's style is very fairy tale-esque both in his narrative and silent art films," says Nathan. "He is a very image conscious director and his movies live in a world where a composition is still worth a thousand words.In this absence of dialog, "To a Flame", "Shell" and "The Regret" all rely heavily on the image to support the relationships developed within the film."
When prepping for "To a Flame" the first of the three films, we knew right off the bat that we couldn't afford to shoot film and that the budget wouldn't justify jumping to the Varicam for the list of advantages over the HVX. I had been considering using a more expensive 35mm adapter based on my previous experience, but it was way too expensive and its difficult to justify putting a $10k adapter on a $5k camera, rather than working with a bigger camera to begin with. Redrock presented itself as an alternative that turned out to not only be equal in resulting image quality, but affordable to own as well! We were so thrilled with it's performance on "To A Flame" that when Michael approached me for "Shell" and then again for "The Regret", using the M2 was already a staple to build our visual conversations from."
"We also used a set of Zeiss ZF prime lenses for nikon mount for both "Shell" and "The Regret". It was like a match made in heaven – Not only were we able to gain the depth and feel of shooting on film, we also were able to take advantage of the speed, sharpness and clarity of the Zeiss primes. All three films have a very distinctive, almost branded style. They are very similar to old contemporary Hollywood in their visual style, composition and pacing. The M2 was essential in accentuating these features and giving the HD footage an organic and film-like feel. I'm currently fundraising for a feature documentary on the Genessee River Killer, which I plan on shooting with the M2 in it's entirety."
All three films are viewable on our samples page and can also be viewed from the links below: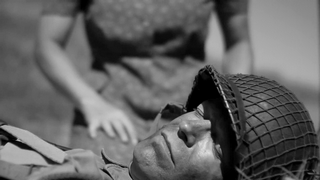 Shell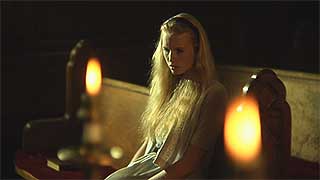 The Regret
Focus on "Shell"

One of the biggest influences in SHELL for writer/director, Michael Fisher, was Stuart Cooper's "Overlord", which was shot by John Alcot, BSC. We tried to pull a bit of visual influence from "Overlord" as well. In order to obtain that classic B&W film look, depth of field was an incredible priority. Using the Redrock M2 was a no brainer. We used Zeiss photo primes and shot everything with no filtration in order to take advantage of their speed and sharpness. They make everything look so beautiful and the M2 allowed us to take advantage of that on a budget. It gave us amazing control over depth and exposure. When we needed to be wide open, we were able to get a shallow focus as we needed, when I wanted to see more I could. For the jib and dolly shots I would stop down quite a bit, so we could maintain a wider range of focus throughout the movement but still enjoy the benefits of the adapter. I think Redrock has changed the image of indy filmmaking on a budget and as they continue to make improvements and updates things will only get better.
Nathan Beaman began his filmmaking career while still enrolled in college, at Burlington College in Vermont. In 1995 he founded Urban Rhino, a multimedia production and consulting firm. An active member of I.A.T.S.E local 481, Nathan has developed his skills from what he has learned working as an electrician on motion picture sets. A skilled DP and Editor, he is also an Apple Certified Final Cut Pro Trainer. Nathan is currently shooting and directing a documentary on Arthur Shawcross, a man who murdered 11 women and 2 children in NY, dumping their partially eaten bodies in the Genessee River. He is also developing a feature length screenplay and actively seeking projects as a Director of Photography.
Nathan can be found at Urban Rhino Visuals